Good Morning! How has your week started off? This week has definitely been a big change for me. I finished moving when I returned from the cruise and now I no longer have the horses in my backyard 🙁 and have an hour drive to work in the morning. I won't complain to much though. I'm back where I want to be in good ole' Siler City. I love this small town and hated to leave it, so it's good to be home.     I'll have more on that later tho.
Ready for some more cruise pics? Did you see the first set of cruise pictures I posted yesterday? Today's pictures are from our first two Ports of call, Grand Turk and Half Moon Cay. Both are small islands in the Bahamas and boy were they beautiful! The water was crystal clear and the weather was wonderful!
So our first day on the Carnival Destiny Ship was spent at sea. We spent most of the day lounging on the Pool Deck while we read, listened to music, watched the hairy man contest – the guy that won was VERY hairy! – and sipped on cold beverages. Braxton played in the pool or on the slide the entire day. He said the slide was his favorite part of the cruise – go figure!
After our fun in the sun, we got dressed up and headed to dinner. This night was the only "formal dinner" night on the ship, the other nights you could dress casually.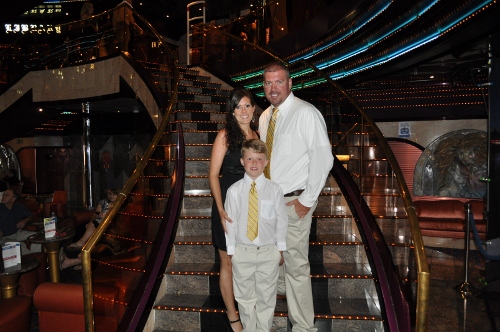 Meet Booty! He was one of our waiters that Braxton took too. Booty was from the Philippines. He was super funny and loved to dance – hence his name. 😉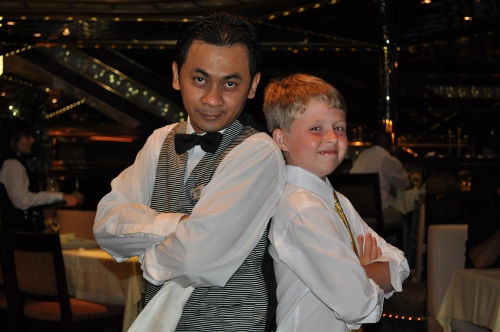 Later that night we returned to our cabin to find this little fella! Any idea what it is? Tory and Braxton said a Pig, I say Monkey. What's your guess??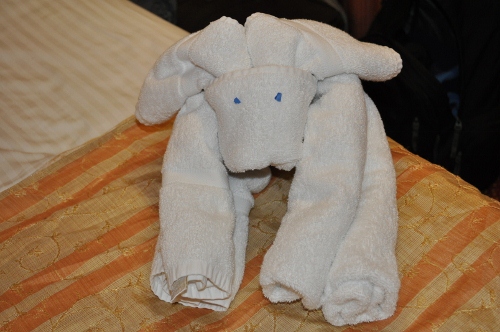 The next day we docked at our first Port of Call, Grand Turk! Grand Turk was awesome. We actually have been there before but it rained so we didn't get to see much. This time the weather was great and we got to see a lot. First stop, Margaritaville!! It's 5 o'clock somewhere baby! 😉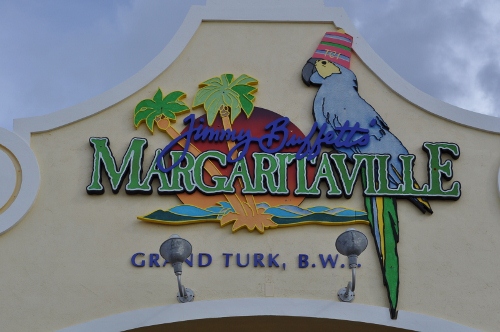 We walked in just about every store and ended up just buying T-shirts from Ron Jons Surf Shop. However, the handmade jewelry on in the shops was so neat, I snapped this picture of the animal rings I saw. Aren't they cool?!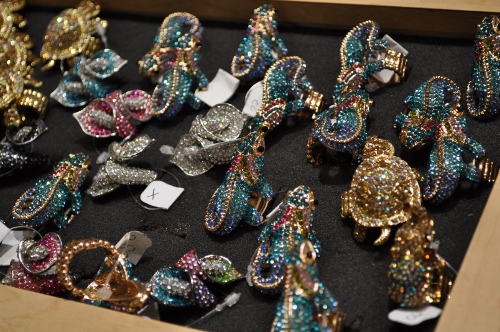 Once we finished exploring the shops we headed to the beach. Luckily it was still early enough it was crowded. I loved the Palm Trees in the sand. It was the perfect amount of shade and sunlight.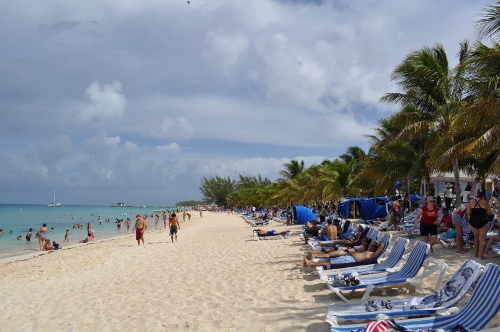 We ended up doing the Sting Ray Excursion and I'm so glad we did. It was well worth the $70 per person to do it. First we went snorkeling at a reef where we got to swim with lots of colorful fish and 3 sharks!! When I say swim, I mean up close and personal. I even got to rub one and lets's just say they aren't slimy, there skin felt like sand paper. I wasn't expecting that.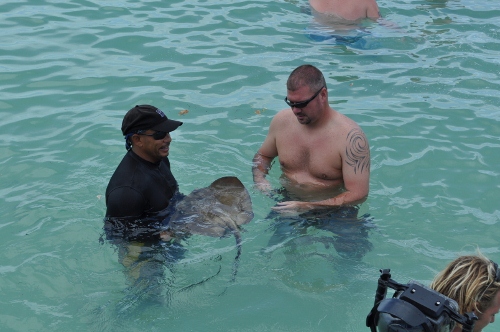 Grand Turk was awesome and I recommend you going there if you haven't!
At dinner that night, our "showtime" entertainment was the waiters dancing to Apple Bottom Jeans song on top of the tables. It was by far the best entertainment at dinner all week. We were all laughing so hard at these guys who had no rhythm trying to "get low" on the table.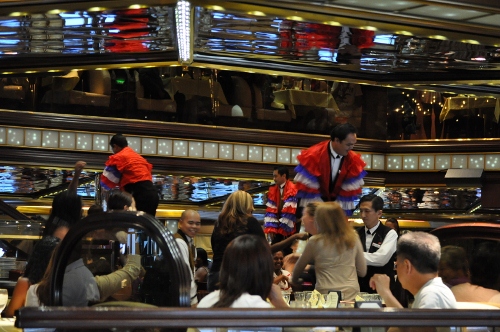 And again..another Towel Animal in our cabin that night. Maybe this one is the monkey and the other was a pig? Or maybe I was right and this is the pig and the other was the monkey??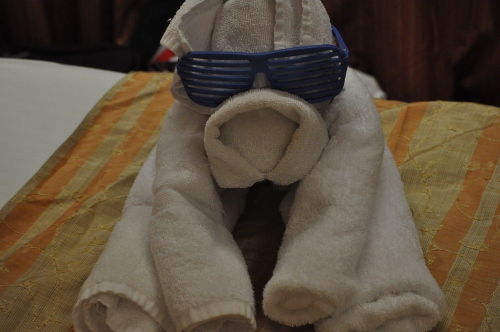 The next day, we arrived at our 2nd Port of Call, Half Moon Cay. This is a small island owned by Carnival. To get to this island you had to take "tenders" over and let me just say. That was a hot mess. We waited 2 hours to get on a tender and then were on it 30 minutes and it was hot. Once on the island we just laid out and watched Braxton swim with some girls he met while we enjoyed some more cold beverages.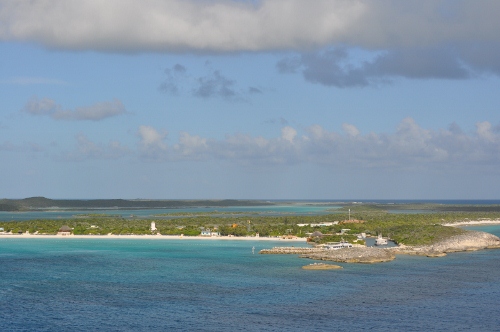 That's it for now. Come back tomorrow to see pictures from our last port of call, Nassau! I got some great pictures there that you won't want to miss.
Question for You:
Have you been to Grand Turk or Half Moon Cay? What did you like best about these islands?
P.s. Feel free to share any of the photos I've taken but please give me some credit. 😉