What a great day it's been. Hopefully all of you had a wonderful day as well! This is the first year my mother's parent(from FL) have come to NC to have Thanksgiving dinner with us. The last time I saw them was a little over a year ago when my brother got married and they came up for the wedding. Seeing them today and enjoying a few hours of family time was wonderful.
Aren't we just a bunch of good looking southern women 🙂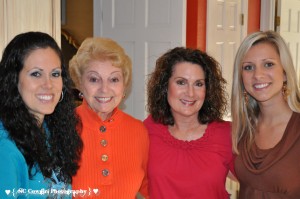 From left to right: Me, Grammie, My mom, Kelly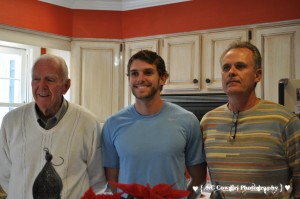 From left to right: Grandie, My Bro, My Dad
My mom, Grammie (aka my grandmother), and Kelly(my sis-in-law) all cooked the meal for today. We had Turkey, Honey Baked Ham, Water gate salad, deviled eggs, sweet potato casserole, broccoli and cheese casserole, green beans, mash potatoes, and rolls! I'm an extremely picky eater and I don't eat a lot of vegetables or fruit but I did eat most everything today and boy was it good!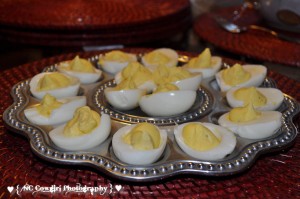 Kelly's famous Deviled Eggs. While I didn't eat them, I can say they were a hit with the rest of the family. 😉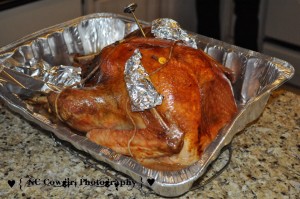 Here's the turkey after it came out of the oven. This I did eat and boy was it delicious!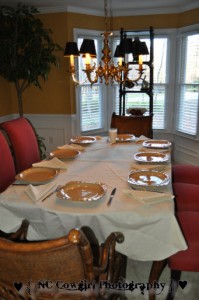 Our Gathering Place
What did you cook/eat this year? What's your favorite all time Thanksgiving food? I LOVE deep fried Turkey! mmhmmm is it good! Maybe next year I can talk my mom into deep frying one.
P.s. Don't forget about the giveaway! There is still plenty of time to enter so head on over and get entered!