Ya'll I'm still here – I promise! I've been on quite the hiatus though and want to tell you what's been going on.
I'm going to try and keep this post short and sweet so I don't bore you. As you've probably notice the second half of this past year I wasn't exactly present much here on the blog. I still was active on Instagram and somewhat on Facebook but wasn't putting out regular updates here. Not because I didn't want to – I did – I just couldn't find the time. Keeping up the blog wasn't top priority for me.
After I got married in June, I felt like I really needed to take on more responsibilities with the business my husband and I had been running the past few years. Even though we've been in business for years, I really didn't do much with the company. I let him manage it by himself. However, at the beginning of last year (as we were starting to combine our incomes) I realized he wasn't exactly doing the best job managing the business. He is GREAT at most of it but when it came to the bookkeeping, it was basically non-existent. He was in desperate need of my help to start proper bookkeeping and to run the business like a true business. Not a side gig.
So after we got married – and all the wedding planning was done – I was able to really start diving in and working on the business. When I wasn't working my full time job as a Digital Marketing Strategist, I was working on our business and how to grow it. I was doing all the bookkeeping, marketing and building the new website.
I'm very proud of this website and put a lot of sweat equity into it. I have never built a website like this before and hope I can take what I learned and update this blog next. It's time for a new look and feel, don't you think?!
Shameless plug too – Our Company is called Supreme Renovations LLC and we specialize in Replacement Windows and Roofing. Visit our new site at www.SupremeRenovationsLLC.com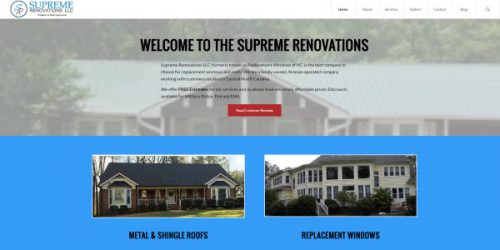 Aside from spending a lot of time on the business, I was constantly on the go to horse shows chasing points so I could make it to Worlds (which I did, YAY! Georgia here I come in Oct.). Of course, on top of all that I still had responsibilities at home that I had to catch up on because I put them off all summer and part of fall while being on the go to shows.
I always thought about updating ya'll on what was going on, I just was too tired at the end of the day to sit down and think anymore. I got to a point where I needed downtime each night, even if it was only for 30 mins or less. I was running on fumes and honestly starting to burn out some.
Thankfully, the hard work with the business is done and I'm slowly getting into a good rhythm managing everything I have to do weekly for it.
With that said, I do have some great updates coming your way and will be back to a regular schedule this year. 🙂 My goal is to push something out once a week for now. I've got some great ideas on things I want to share not to mention, I've had a few emails recently asking for an update on Gracie!
So stay tuned…more is coming your way! 😉
So Tell Me..
What topics would you like for me to work on for the blog this year?