Yesterday I had to attend a golf tournament for my work and wasn't able to work on a post I had planned. 🙁 So I thought I would just take a quick minute to remind you what social media sites I'm on in case you want to check out what's going on over on those. 🙂
You can follow me on Pinterest. On here I've got many different boards relating to cowgirl fashion, horses, hair ideas, workout ideas, Tack I like, Shoes/Boots I like, Amazing Barns and Homes, etc. :
You can also follow me on Facebook. I try to post pictures I've seen floating around facebook and any contests going on by other bloggers/companies. You can also keep up with all the new blog posts on here and anything else going on.
I'm on Twitter as well. I use twitter as my conversation site. I like to "tweet" with people and see what others are talking about. I do post blog updates on there as well, so if you follow me on Twitter you will see those there too.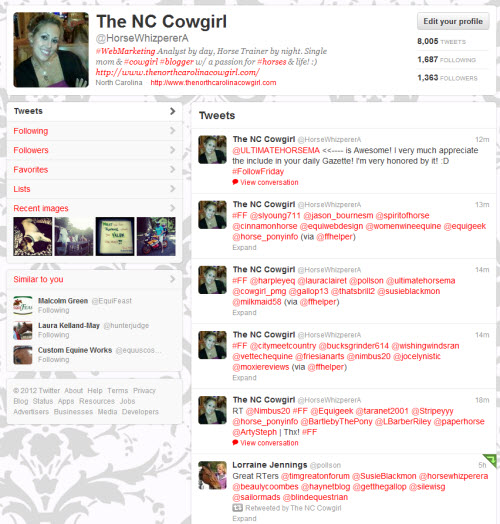 Another way to keep up with new posts on the blog is to get my RSS feed.  There are two ways to get it.
Click on the icon below and the feed will come up. Copy and paste the url into your feedreader and you're all set. 
The other way is to sign up to receive new posts via email. You can do that by submitting your email below.
Thanks again for reading my blog. Feel free to contact me with any comments or new topic ideas you would like for me to write about! Also, I'm looking for a few people to write some guest posts while I'm gone on vacation in August, if you're interested please shoot me an email. I'm looking for posts about riding, fashion, workouts (cowgirls gotta stay in shape don't they), and as always I'm open to any ideas you have.
P.s. I'm in the process of making changes to the blog, so keep checking back to see what new features I've added.